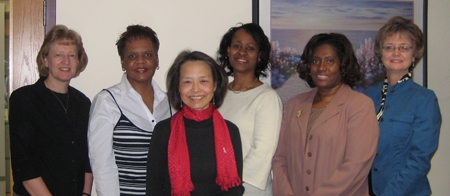 Pathology CQI Team– L to R: Barbara Parsons, Marian Turpin, Margie Siauw, Natalie Wallace, Sharon Cherie, and Pat Wachter.
Every two years, clinical laboratories are required by law to be inspected by a federally-approved accrediting organization.  At a minimum, the inspection process ensures each licensed laboratory is compliant with all regulations cited in the Clinical Laboratory Improvement Amendments of 1988 (CLIA). The main purpose of these regulations is to ensure the accuracy and reliability of all testing.
The Johns Hopkins Medical Laboratories on the East Baltimore campus has long been inspected by The Joint Commission, one of the few laboratory accreditation organizations that have been approved by CLIA.  The Joint Commission is also the accreditation organization that inspects our hospitals, however, the hospital inspection is performed separately with a cycle of every three years.
Shortly after the Joint Commission inspected the laboratories in December 2007, the Department of Pathology and the Office of Regulatory Affairs were asked by Johns Hopkins Hospital senior leadership to evaluate the current accreditation process against the College of American Pathologists (CAP) accreditation. CAP is well known as an organization, also approved by CLIA, and accredits over 83% of laboratories in the top academic medical centers and large hospitals.  An evaluation process ensued and comparative data was gathered to include a review of pre- and post-inspection processes, surveyor/inspector expertise and experience, inspection preparation materials, educational opportunities, communications, central office structure/support and costs.  Additional input was provided by our laboratory colleagues from Bayview and Howard County whose laboratories have been accredited by CAP for many years.  A committee made up of Lab Directors, Administrators and Quality Assurance representatives reviewed information collected from the evaluation and made a final recommendation to Dr. Brooks Jackson, who approved the accreditation change to CAP.  Senior Hospital leaders gave final approval and the transition to CAP began in the fall of 2008.  (NOTE: This change does not apply to Point-of-Care testing that is waived or provider-performed microscopy.  This testing will be included in the Hospital's Joint Commission survey).
What has happened since the decision was made to switch to CAP?
Pathology's CQI Office (Natalie, Sharon, Margie, Pat, and  Marian) has coordinated the transition to CAP by requesting the CAP applications (one for each CLIA-licensed laboratory), notifying Joint Commission of the changes, collecting enormous amounts of data for submission of the applications, distributing inspection checklists to individual laboratories, collecting laboratory action plans, conducting mock inspections, answering questions, obtaining checklist clarifications from CAP, ensuring proficiency testing enrollment compliance, meeting with laboratory groups and individuals, writing/reviewing  policies, and much more…..
Lots of effort everywhere!! Each laboratory has reviewed the Laboratory General checklist and the laboratory discipline checklist specific to their technical operations.   After several months of review, a gap analysis was performed and each laboratory documented action plans where compliance to a checklist requirement was needed.   Ongoing preparations have been a team effort and engagement is high.
Pathology formed a Laboratory Regulatory Readiness Team with members from all divisions/lab areas to meet monthly to discuss the checklists, resolve issues and share learning.
When will the inspection take place?
Since this is our first CAP inspection, we will have a scheduled on-site inspection.   While an exact date has not been finalized, we are expecting the inspection to occur around mid-September.  After this initial inspection, all subsequent inspections will be conducted every two years on an unannounced basis around our anniversary date.
What will be different?
Instead of a few staff surveyors on site for 5 days, we are expecting a volunteer team of practicing lab professionals who will utilize a peer review process. This team will be led by a pathologist experienced in CAP inspections and will include other pathologists, supervisors and technical staff who work in laboratories of similar size, scope, complexity and test menus. Team members complete a CAP training course before participating in an inspection. We can expect a large team who will be on-site for 2-3 days.
The inspectors will be using checklist questions that are organized by specific laboratory disciplines and/or important laboratory operations.   Over 3,000 checklist questions guide the inspection and check for compliance to standards that meet or exceed CLIA laboratory requirements. The checklists are written by laboratory experts and requirements stay current with technology.
In addition to a thorough inspection, we will have an opportunity to share information and ideas with members of the inspection team.  This can result in improvements for both the laboratory being inspected and the inspection team.
What will happen after the inspection?
The CAP inspectors will communicate their findings to us at the end of the inspection and forward a report to CAP's Central Office. The findings and the laboratory's corrective actions will be reviewed by CAP technical specialists, a regional commissioner, and an accreditation committee. This will ensure objectivity and consistency.
After determining if the laboratory meets regulatory requirements, the CAP will issue an accreditation decision which is valid for 2 years.
All laboratories are required to perform an interim inspection in the year they are not inspected and implement corrective actions for any deficiencies found.
We're almost there!
Preparing for an inspection, especially a new process, is time-consuming and at times stressful.  We recognize the commitment and preparations going on in every laboratory towards this important activity.  Accreditation is not only a regulatory requirement, it is a pursuit of quality and a way to strive to be better.   There will continue to be an ongoing assessment of laboratory processes, systems to ensure optimum test performance and quality of operations.
Thanks to everyone for your participation!!
Barbara Parsons, MA, MT(ASCP)
Department of Pathology – CQI Office
Assistant Director, Quality Management