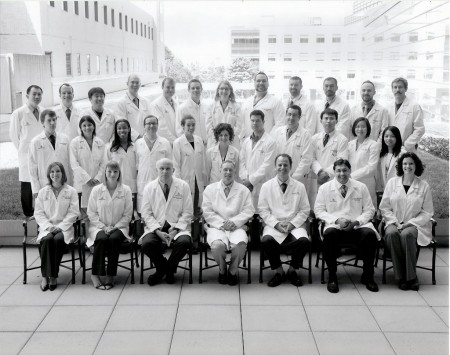 The residents of the Johns Hopkins Pathology program are a diverse, scholarly, and collegial group of individuals, 21 men and 13 women, hailing from many different states and from around the globe, including Taiwan, China, Poland, and Serbia.  They completed medical school at prestigious universities such as the University of Pennsylvania, Cornell, the University of Pittsburgh, Vanderbilt, and Johns Hopkins.  Not only are they outstanding scholars, they are culturally diverse, musically inclined, and athletically talented.  Among our residents are individuals fluent in Serbian, Polish, Greek, French, Spanish, Mandarin, and Chinese.  They can play a number of musical instruments, including the flute, cello, violin, bass, guitar, trumpet, trombone, and piano.  When they're not hard at work, they also enjoy athletic pursuits such as rock climbing, hiking, kayaking, soccer, basketball, cycling, and running.
For those of you who may not be aware, residency consists of training in a medical specialty following graduation from medical school, and residency programs typically range from three to seven years.  When medical school graduates decide on a career in pathology at Johns Hopkins, they embark on training in one of four possible programs:  four years of combined anatomic and clinical pathology; three years of anatomic pathology; three years of clinical pathology; or a four-year combined program in anatomic pathology and neuropathology.  They complete rotations in fields of anatomic pathology such as surgical pathology, gynecologic pathology, neuropathology, gastrointestinal pathology, dermatopathology, cytopathology, forensic pathology, and autopsy pathology.  For those completing a training program in clinical pathology or combined anatomic and clinical pathology, residents take an active role in a number of clinical pathology rotations including transfusion medicine, hematopathology, microbiology, clinical chemistry, immunology, molecular pathology, cytogenetics, hematology and coagulation, and laboratory management.  At the completion of residency training, pathology residents take board certification exams in anatomic and/or clinical pathology, and many choose to complete an additional year(s) of fellowship to concentrate their training focus on one of the above listed pathology specialties.
While in training at Johns Hopkins, most residents take part in research projects.  They present their work at national and international meetings, and many of these projects result in first-author publications.  Several of our residents arrive in Baltimore with a strong interest in research, as 14 of our 34 current residents have earned a Ph.D., and three have completed Master's degrees.
Our residents enjoy each other's company at annual social events such as the summer picnic and Christmas party.  You might see them at an Orioles ballgame on a Friday night.  They support one another, hosting cookouts and dinners to celebrate each other's birthdays, as well as hosting baby showers to welcome new members of their families.
Erin Carney, M.D.
Co-Chief Resident, 2011-2012
Department of Pathology