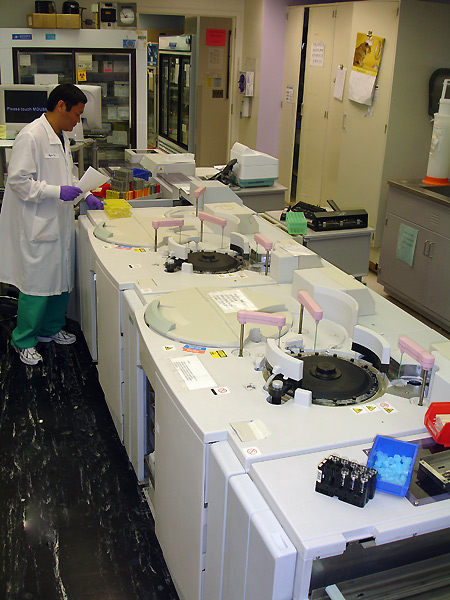 Chemistry clinical lab scientist working on chemistry analyzer with autoverification capability.
Our Chemistry Clinical Laboratory Scientists (CLS) in the Core Lab face the daily  task of providing thousands of accurate and timely patient test results to guide clinical decision- making 24/7.  We provide a menu of 38 tests encompassing electrolytes, enzymes of heart, liver, pancreas and bone, markers of renal status, lipid profiles, iron and iron storage assessment, detection of subtle inflammation and metabolic disorders,  and we accept a variety of specimens including serum, plasma, urine, body fluids, and Pharmacy IV solutions.   From this brief description it is easy to recognize the tremendous impact these 38 tests have on the minute-to-minute care of our patients.
Indeed, approximately 70% of all critical diagnoses are based on laboratory results.  So in order to provide accurate  patient test results, we not only use  quality control (QC) measures to ensure the analytical validity of our tests, but also validate patient results to catch pre- and post-analytical errors that may occur before releasing them into patient records.  In the past, this latter job was carried out manually by our CLS who would apply hundreds of rules to identify these potential errors.   Imagine remembering  hundreds of rules and applying them perfectly to thousands of results passing before you; a daunting task to say the least.
Then auto-validation came along and helped reduce this daunting task.
So, just what is auto-validation  and how does it help?   It is the automatic release of test results into the patient record without the CLS seeing or reviewing them. Sound risky?  Not really.   Behind the scenes, within PDS, are algorithms (rules) that, in essence, are the eyes and mind of the CLS.  The rules account for the checks and balances the CLS would normally make during manual review of results.  The benefit is the simultaneous application of the checks and balances for every test and many test combinations.  The validation system ensures standardization of data review, increased productivity, decreased turn-around-time, and decreased CLS stress.
Currently 75% of our test results are auto-validated. The rest of them, which, by default, autovalidation finds that need careful review and investigation, are validated by our highly skilled CLS professionals who now can focus their attention on making the best decisions concerning these specimens.
Our thoughts of autovalidation began in the 1980's. However, regulatory and programmatic challenges placed the project on a back burner until the millennium. Nevertheless, autovalidation programming was eventually developed in the PDS Test System and ready for live testing in January 2005.  For patient safety, the system was designed to operate in a disabled mode during live testing and tuning.  Disabled mode utilizes all the rules but does not auto-release any records.  The programming was tested in this manner until going live on August 28, 2005.  From January until August, CLS operators of the Roche Modular Analytics DP Chemistry Analyzer were required to report any disagreements between their manual review and that of the auto-validation programming.  Discrepancies were thoroughly investigated and adjustments to the programming or to rule definitions were made.  Testing and tuning continued throughout this period; accounting for approximately 400,000 patient specimens and 4,000,000 patient test results reviewed.  Throughout this process, staff became familiar with the rules and were instrumental in defining new rules and re-defining existing rules.  Patient results were successfully tracked for accurate transmission from the chemistry analyzer raw data to the PDS interface,, and finally to EPR and POE.
So what are the challenges and excitement for the future?
With the advent of SOFT, creating the autovalidation system within the Roche Middleware, -the software that facilitates communications between our automated instruments, will challenge us.  When completed, the excitement will be the continued growth of autovalidation for other tests on Roche instrument platforms throughout the Core Lab.
Greg Gerhardt, MS, MT(ASCP)
Supervisor, General Chemistry
Core Laboratory