Improving the Quality of Testing in Indian Laboratories
The Y. R. Gaitonde Centre for AIDS Research and Education (YRG CARE) is a nonprofit organization based in Chennai, India, which opened its doors in 1993. The activities of YRG CARE are organized around four core areas – Education, Care & Support, Research, and Training. Today its successful models of Prevention Programs, Laboratory Services, and Care and Support programs have drawn international acclaim from UNICEF, the World Health Organization, and the Red Cross.
YRG CARE has always been at the forefront of quality in India and has a clear vision to help move the quality of laboratory testing in India forward. With this goal in mind they hosted their first annual training session for Good Clinical Laboratory Practice (GCLP) in June 2010.
Good Clinical Laboratory Practice guidelines, first described in 2003 by the British Association of Research Quality Assurance (BARQA), were created to bridge the gap between guidelines for good clinical practice (GCP) and good laboratory practice (GLP).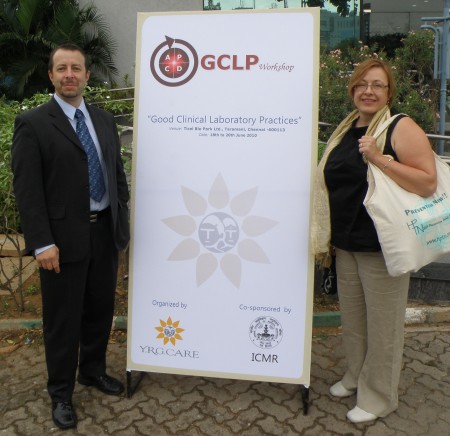 Paul and Estelle arriving for the first day of GCLP training

This three-day training course was designed to help train and educate laboratorians about the recently published World Health Organization (WHO) GCLP guidelines and the International Organization for Standard (ISO) 1518,9, which is required for Indian laboratory accreditation (NABL). In 2006, WHO/TDR (Special Programme for Research and Training in Tropical Diseases) convened a meeting of organizations engaged in clinical trials in disease-endemic countries to discuss the applicability of GCLP guidelines to their work. It was agreed that GCLP would be a valuable tool to improve quality laboratory practice. In line with that agreement, the TDR/WHO recently acquired copyright to Good Clinical Laboratory Practice guidelines that were originally published in 2003 by a working party of the Clinical Committee of the British Association of Research Quality Assurance with the aim of disseminating them widely in developing countries and developing related training materials. Compliance with them will allow clinical laboratories to ensure that safety and efficacy data is repeatable, reliable, auditable and easily reconstructed in a research setting. GCLP guidelines set a standard for compliance by laboratories involved in the analysis of samples from TDR-supported clinical trials.
The International Organization for Standard (ISO) is a worldwide federation of national standards bodies from over 140 countries. It is a nongovernmental organization established in 1947 whose mission is to promote the development of standardization and related activities in the world with a view to facilitate the international exchange of goods and services, and to develop cooperation in the spheres of intellectual, scientific, technological, and economic activity. ISO's work results in international agreements, which are published. CAP, a program we all recognize, was a contributor to the development of the ISO 15189 Standard.
Participants from all over India attended the workshops which were fully subscribed. Interest in the training was so high that many participants had to be turned away and placed on the training course planned for 2011.
Estelle Piwowar-Manning and Paul Richardson from the HIV Prevention Trials Network Laboratory based in the Johns Hopkins University School of Medicine Department of Pathology were invited speakers at the GCLP training session. Estelle spoke about the importance of a good laboratory inventory system and Laboratory Information System (LIS) validations as well as the importance of GCLP in Clinical Trials. Paul described how to perform assay validations and the selection of appropriate reference ranges for use in clinical trials.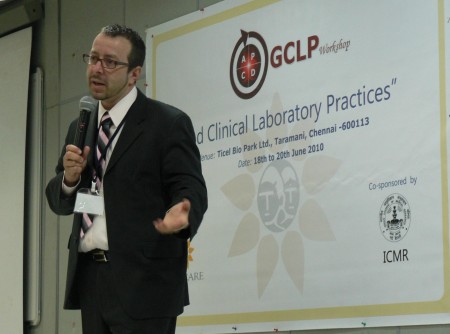 Paul was faced with many questions relating to assay validations
"We were very impressed by the interest and enthusiasm from the audience, questions came thick and fast and extended well beyond the allotted time. Many questions were directly about Hopkins' Pathology. It was very clear to us that the reputation of the Institution, in particular, the Department of Pathology, had reached the shores of India.
It was also very impressive to see that these laboratory professionals from often resource- limited settings have a genuine interest and pride in their profession and are willing to go the extra mile to assure quality testing for both patients and clinical trial participants."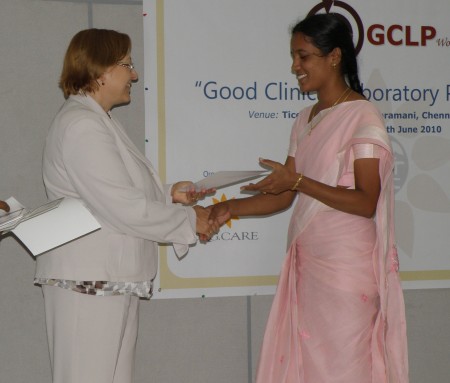 Estelle congratulated participants and handed out training awards


Group photograph of the participants and invited speakers who attended the GCLP training
Estelle Piwowar-Manning, MT(ASCP), SI
Deputy Director
HIV Prevention Trials Network Laboratory
Paul Richardson M.Sc. ,FIBMS.
Senior QA/QC Coordinator
HIV Prevention Trials Network Laboratory