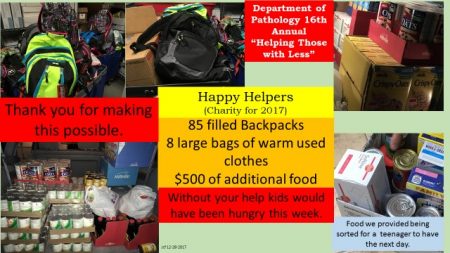 Impoverished, hungry children in Baltimore  – the teachers know only too well the sad and compelling stories.  But by their participation in the 2017 Helping Those With Less charity drive, Pathology employees helped to alleviate some of the hunger and needs of these young people.
It was a very successful campaign working with The Happy Helpers for the Homeless, an all-volunteer organization that serves the homeless and poor of Baltimore, Anne Arundel County, and the Eastern Shore.
This project, an annual charity drive of the Department, is led by Lydia Nelson and Judy Frazier of the Core Lab.  They collected a lot of great food for the schoolkids — food high in protein and nutrients that will last through April or May of this year, as well as the backpacks, the gently used winter clothing, and $500.00 in cash.
Judy and Lydia expressed their appreciation to everyone who helped, especially when they were unable to provide weekly pick-ups. "Special thanks to those who coordinated contributions for the different labs and shifts. It takes time and effort but it is so appreciated by the kids who receive the food and the clothing," said Judy. "We also want to thank those who looked at dates on cans and made sure the used clothes were appropriate for cold weather. We are so very grateful to everyone who participated in making the '2017 Helping Those With Less' campaign a success."
The Pathology Department of Johns Hopkins continues to be a very generous contributor to the local community, in particular to children.