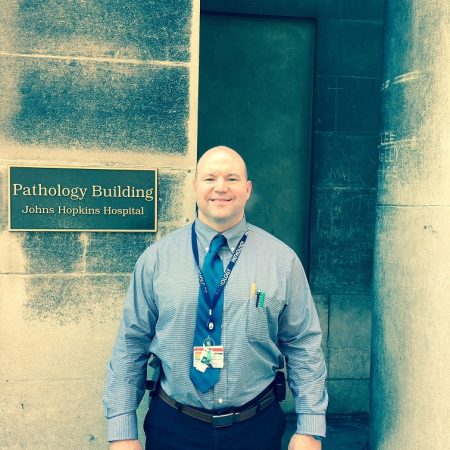 Dr. J. Judd Fite is the Yener Erozan Cytopathology Fellow in the Pathology Department of The Johns Hopkins Hospital. Dr. Fite grew up in the small town of Benton, Arkansas, and completed undergraduate training at the U.S. Air Force Academy and earned a B.S. in biology.  He served in the Air Force for nine years as a navigator/electronic warfare officer aboard the RC-135 reconnaissance aircraft. While in the Air Force, Judd earned an MBA from the University of Nebraska.  After separation from the Air Force, Judd worked for Ethicon Endo-Surgery as a surgical equipment sales representative in Portland, Oregon.
He then decided to pursue medicine, and graduated from the University of Arkansas for Medical Sciences (UAMS) in 2013. Upon graduation, he completed his residency in anatomic and clinical pathology here at the Johns Hopkins Hospital.
With an ever-changing healthcare landscape and advancements in medical technologies, Judd believes the minimally invasive approaches offered through the field of Cytopathology will become increasingly more important. "Cytopathology will continue to grow as an integral part of diagnostic medicine, and I  feel that the Johns Hopkins Hospital is the best arena to gain this experience," he says.  Dr. Fite is interested in general pathology and sees the Johns Hopkins environment as having the best exposure to all types of specimens. As the Erozan fellow, Dr. Fite says, "I enjoy not only being part of the legacy of Johns Hopkins medicine, but part of the legacy Dr. Erozan has made to Johns Hopkins medicine and the field of Cytopathology."
Judd is married to Danielle, an international freight pilot on the Boeing 747. He enjoys backpacking, camping, and traveling with her during their free time.  As many of us know, Dr. Fite is also a lifelong avid herpetologist, an expert in snakes.  He spends most of his trips searching for, catching, photographing, and studying snakes in backcountry habitats.