On June 30, 2010, two workhorses for Johns Hopkins Pathology were retired at Howard County General Hospital (HCGH) in Columbia, Maryland. The Roche Hitachi 917 chemistry analyzers had been in operation for 14 years, including 7 years at the Johns Hopkins Hospital (JHH) prior to 2003, and 7 years at the Johns Hopkins Pathology Core Laboratory at Howard County General Hospital. The two analyzers combined to complete approximately 5.25 million patient chemistry analyses in Howard County, after moving from their first home at the East Baltimore campus! Despite their age and longevity beyond most in their line, the two duplicate analyzers backed each other up for seven years without any gap in chemistry service, a tribute to their designers, the engineers that repaired them, and the staff that provided preventative maintenance.
These two analyzers and two Elecsys 2010s were replaced by two new Roche Cobas 6000 chemistry analyzers. The process of selecting and installing the new chemistry analyzers was the culmination of four years of careful consideration, and a collaborative effort between JHH and HCGH.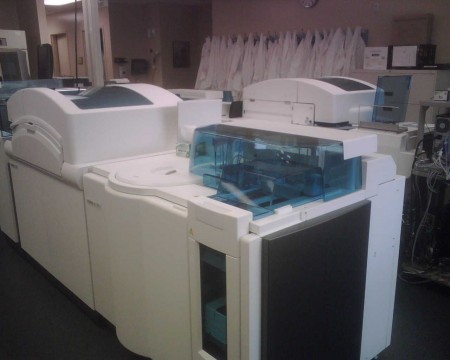 Happily, the installation, validation, computer interface, and training went without a problem, and was completed within six weeks. The new instrumentation offers several advantages in addition to reliability. They combine chemistry and immunochemistry onto a single platform which reduces the number of blood tubes needed to be collected from our patients. Furthermore, they add more channels for performance of chemistry tests, which makes it possible for all offered chemistry and immunochemistry tests to be done on one analyzer. Thus, the analyzers are true mirror images of each other — capable of providing full service in the rare event of an instrument failure. Only one Cobas 6000 is run per shift, instead of two Hitachi 917s and two Elecsys 2010s. The reagent changes have allowed more onboard reagent stability and many more patient tests in much more compact packaging. These changes have been enjoyed by our technologists, and have lead to an impromptu celebration of the changing of the guard.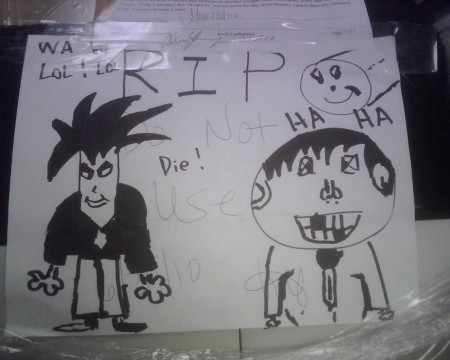 Technologists took the opportunity to express their satisfaction as the 917s were wrapped up in plastic and ready to be removed!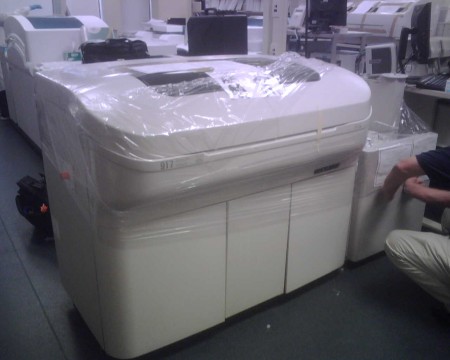 Dr. Daniel Chan, Director of Clinical Chemistry at JHH, was the first visitor to the renovated lab at HCGH, and indicates the Roche Cobas 8000s will be on hand for evaluation at JHH before the end of the year, and installed in the new Core Laboratory facility in East Baltimore by the end of 2011.
Stanley J. Podlasek, M.D.
Clinical Associate, Johns Hopkins Medical Institutions
Chief Pathologist, Howard County General Hospital
spodlas2@jhmi.edu