Definition
An interactive kiosk is a computer terminal which features specialized hardware and software designed within a public exhibit that provides access to information and applications for communication, commerce, entertainment, or education.
History
The first self-service, interactive kiosk was developed in 1977 at the University of Illinois at Urbana-Champaign by a pre-med student, Murray Lappe. The content was created on the PLATO computer system and accessible by plasma touch screen interface. The plasma display panel was invented at the University of Illinois at Urbana-Champaign by Donald L. Bitzer.  Lappe's kiosk was called The Plato Hotline and allowed students and visitors to find movies, maps, directories, bus schedules, extracurricular activities and courses. When it debuted in the U of Illinois Student Union in April 1977, more than 30,000 students, teachers and visitors stood in line during its first six weeks, to try their hand at a "personal computer" for the first time.
Hospital and Medical Clinic Registration and Check-In Kiosks
Hospitals and medical clinics are looking to kiosks to allow patients to perform routine activities.  Kiosks that allow patients to check in for their scheduled appointments and update their personal demographics reduce the need to line up and interact with a registration clerk. In areas where patients must make a co-pay, kiosks will also collect payment. As the requirements for documentation, waivers and consent increase, kiosks with integrated signature-capture devices are able to present the documentation to the patients and collect their signatures. A business case for registration and check-in kiosks is built around:
workload reduction,
data quality improvements,
consistency of registration process, and
patient experience improvement
On April 14, 2014, the Johns Hopkins Medical Laboratory (JHML) @ White Marsh made history by becoming the first pathology department to use a patient check-in kiosk. With the help and expertise of Kelly Cavallio, administrator of ambulatory services, Becky Outten, application coordinator, and the White Marsh phlebotomy team, we were able to achieve greater than 70% patient participation. The kiosks allow pre-registered patients to verify and update their personal and insurance information, scan driver's license and insurance cards and to electronically sign consent forms.  The patient can also sign up for My Chart.  Privacy is protected because the screens cannot be seen except by someone standing directly in front of them. It's estimated that the kiosk will save approximately 2-3 minutes per patient transaction at our busy front desk by eliminating the photocopying of insurance cards and photos IDs.  In addition, the patient's status will show as 'arrived' in Epic, and the phlebotomy technician has only to perform a few clicks in Epic to have the order released into Soft Web.  Using the self-service kiosk is optional, and JHML will continue to make staff available to answer questions and offer traditional patient check-in.
The feedback from our staff & patients has been very positive and we look forward to getting our second kiosk at our JHML Odenton location in the very near future to improve outreach operations.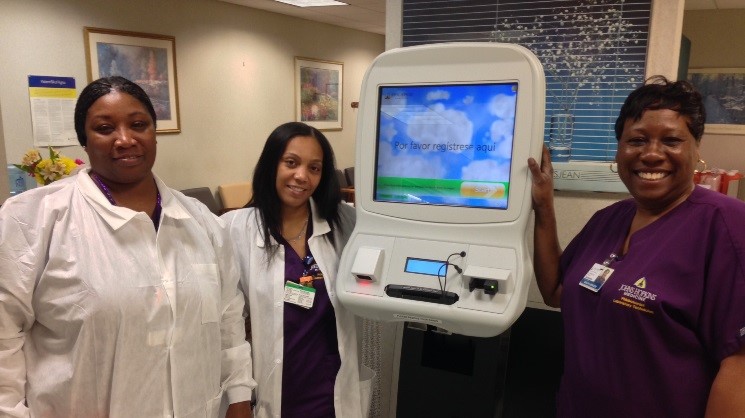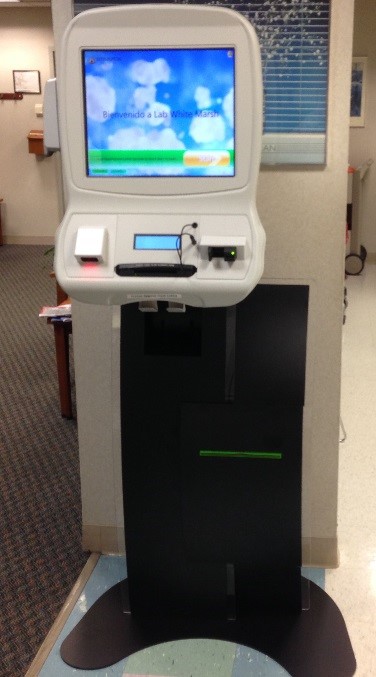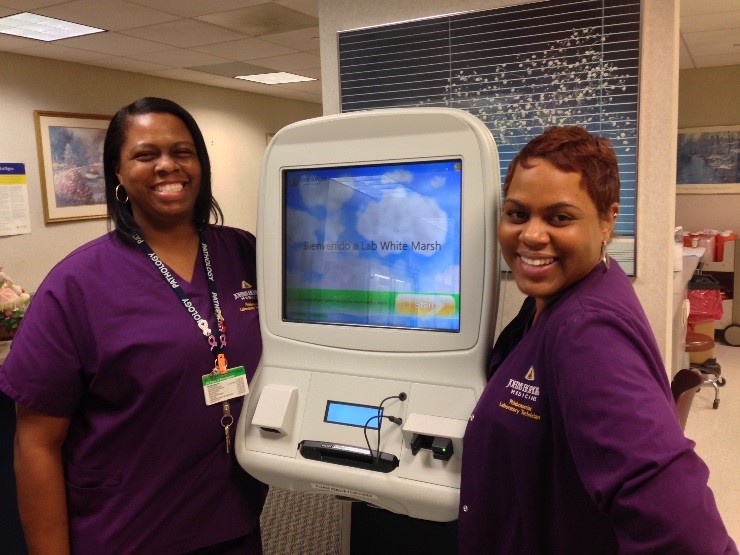 Bill Hartlove
Pathology Manager