Our AABB- and Commission on Accreditation of Allied Health Education Programs (CAAHEP)-accredited Specialist in Blood Banking (SBB) program had a successful year that culminated in the graduation of our two students, Marjorie Te and Justina Pangallo, on September 17, 2010. Many of the staff and faculty were on hand for their graduation ceremony in the regal Wilmer Portrait Room to celebrate their dedication and accomplishments.
Justina Pangallo plans to gain more experience working in an immunohematology reference laboratory after she passes the SBB certification exam. Justina hopes to eventually be in a managerial position either at a hospital blood bank or a donor center.
Marjorie Te plans to work in the field of molecular testing and research of the red cell membrane after she passes the SBB certification exam. Marjorie ultimately hopes to make advancements and discoveries in the field of transfusion science.
As one year ends another begins. Our new SBB students, Peter Martin and Rabindra Sharma, began on Thursday, September 30, 2010.
Peter Martin comes to us from Harbor Hospital. Peter has already received his Specialist in Hematology certification and wishes to add a Specialist in Blood Banking certification. He is currently a member of the U.S. Army Reserves serving as a clinical laboratory officer, and he ultimately hopes to assist the military with his experience and education while remaining an integral part of the Johns Hopkins Healthcare System.
Rabindra Sharma is from University of Colorado Hospital where he worked in the Blood Bank as a Medical Laboratory Scientist. Rabin wishes to increase his knowledge and experience in Transfusion Medicine to both improve transfusion practice in his home country of Nepal and to perform research to improve Blood Bank testing methodologies.
We look forward to another successful SBB year with our new students, Peter and Rabin.
The Johns Hopkins SBB Program is a 52-week work study program where the employed MT or BB certified technologist works in the Transfusion Medicine Lab gaining experience. The Program consists of immunohematology reference lab training, didactic lectures, student presentations, a research project, and student rotations.
The requirements for acceptance into the Johns Hopkins SBB Program are ASCP certification as a medical technologist or technologist in Blood Banking and a minimum of two years full-time Blood Bank experience. The application deadline is April 30 for consideration in the class beginning in September of that year. There is no tuition for the program; students are full-time employees (with benefits) of Johns Hopkins Hospital who work 40 hours per week in the Transfusion Medicine Lab.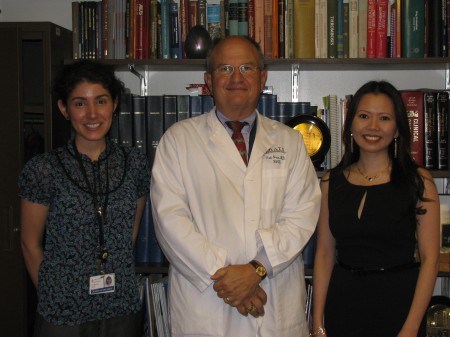 Justina Pangallo, Paul Ness, MD, and Marjorie Te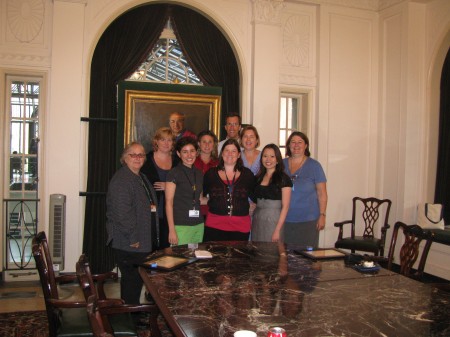 Sandra Thoman, Lisa Shifflett, Justina Pangallo, Christi Marshall, Lorraine Blagg, Aaron Tobian, MD, Joan Boyd, Marjorie Te and Laura Epperson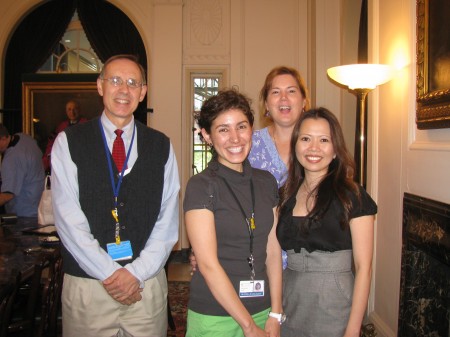 Brooks Jackson, MD, Justina Pangallo, Joan Boyd, and Marjorie Te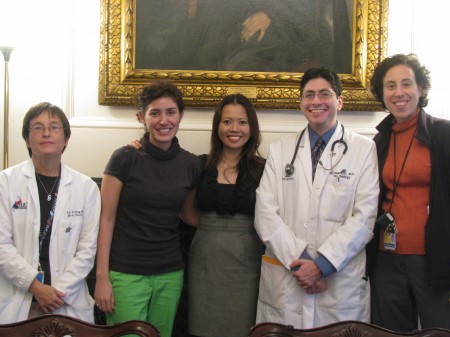 Karen King, MD, Justina Pangallo, Marjorie Te, Matt Karafin, MD, and Zina Meriden, MD.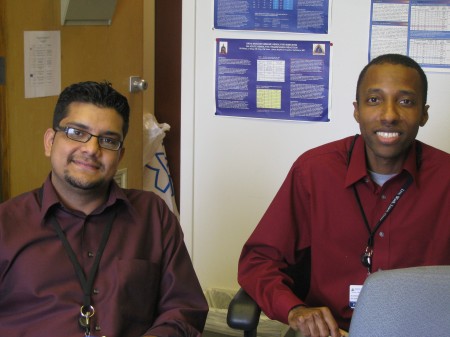 2010-2011 – Our new students, Rabindra Sharma and Peter Martin
Lorraine N. Blagg, MLS(ASCP)CM, SBB
Education & Development Coordinator
Transfusion Medicine Division
Department of Pathology
Johns Hopkins Hospital