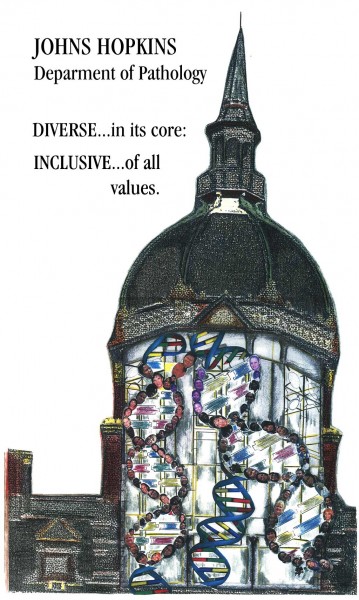 Our mission is to promote the values of diversity for each employee within the Department of Pathology at JHMI and to facilitate commitments to these values in our interactions with individuals and within groups. Through planned initiatives, we intend to build awareness of the importance of recognizing how understanding similarities and differences among individuals and groups will allow each of us to establish common ground for future development of our personal and professional relationships. Education concern based on respect between individuals and between various groups is an essential element in the creation of satisfying and productive relationships.
The Pathology Diversity Committee, now entering its fourth year, thanks everyone for their engaging participation in many events and workshop presentations. We thank you for finding time, despite busy schedules, to attend these events and presentations and for organizing special events within your own divisions. Your enthusiasm has made our "mission" an enjoyable journey as we continue to discover ourselves and others.
The Committee especially thanks Debbie Aird, our past Chair, for her leadership from the first day when we dozen volunteers sat around a table and discussed "What does a diversity committee look like?" — to the evolution of what we are today. Debbie's full commitment made this happen. Sincere thanks to her and the very best of success to her in her new role as the Lab Manager of Suburban Hospital.
This past year's events started with the October celebration of diversity which included the jaw-dropping presentation, "The International Laboratory Experience" by Orlinda Maforo from the Department of Pathology patient Safety Monitoring in International Laboratories (pSMILE). Think of patient safety at JHMI — the lab, clinician, and patient connection is right here. Imagine reaching out across the world to affect change to patient safety. That is what pSMILE does every day. Also, in October we continued the tradition — started in 2008 when we studied Russia, Philippines, and India — of celebrating cultural diversity of select countries through division-sponsored luncheons. In 2009 the countries were Ethiopia, China, and Zimbabwe. This year the event is the week of October 18th, and the countries highlighted will be Singapore, Canada, and Chile.
In December, Chris Hostetter, the Education Coordinator for Core Lab, organized seasonal spiritual moments of reflection. The themes were: Winter – Light; Spring – Water; Summer – Sacred Writings & Stories; and Autumn – Significant Colors. Volunteers from Pathology provided displays and writings from various religions and cultures for others to share in a quiet setting.
April 16, 2010 was a Day of Silence to bring attention to anti-LGBT name-calling, bullying, and harassment. For more information, please visit www.dayofsilence.org.
On April 30, 2010, we celebrated Filipino Culture and Diversity with an interactive and engaging presentation by Teresita Achanzar of JHM International, Marlene Gorriceta of International Patient Care Management, and Rhodora Osborn, EEO Analyst of the Office of Workforce Diversity. The activity sent the participants to locations approximately 8,500 miles of travel distance from the U.S. East Coast. The virtual tour was rich in historical, cultural, and traditional information about the Philippines. Imagine traveling the entire archipelago in an hour? Whew! What a jetsetter! Do you remember how to say "Good Morning" in Tagalog? If not, when asked, just say "Ewan ko."
In July the Committee was quite excited when for the first time we were asked for our assistance addressing generational diversity. To our delight, we presented "Multi-Generation Diversity" to the HIV Lab. The session was extremely well attended and the conversations sincere to light-hearted.
So, after four years of diversity awareness attention, how do we measure success? There are no metrics. The measure is similar to JFK's quote "And so, my fellow Americans, ask not what your country can do for you. Ask what you can do for your country." Stated from the diversity awareness perspective, where the measure is from within the individual, it might sound like this, "And so, my fellow colleagues, ask not what your neighbor can do to appreciate your unique culture. Ask yourself what you can do to appreciate theirs."
If the Committee can assist you in any way, or if you have any ideas to share, please feel free to contact any member. We are open to your input. Contact information is on the Pathology website.
Greg Gerhardt, M.S., MT(ASCP)
Pathology Diversity Committee