Greetings from Debbie Aird at the Suburban Hospital Laboratories! It's hard to believe that I have already been here for over a month. I hope this blog post will introduce you to Suburban Hospital, our laboratory services and staff. The entire Hospital staff has been very welcoming, and I am grateful to all the lab personnel both at Suburban and Johns Hopkins who have made my transition very easy.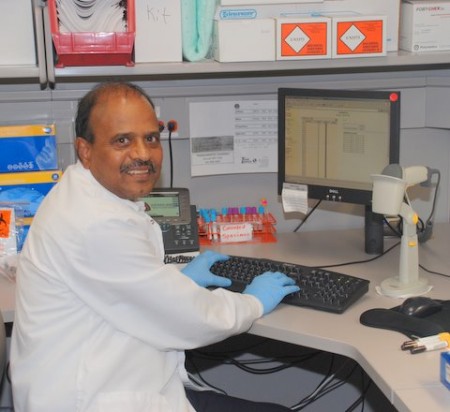 Rajan works in Specimen Processing registering samples from our Client Service Division.
For those of you who are not familiar with Suburban Hospital, it is a community-based, nonprofit hospital in Bethesda, Maryland, which has been serving the residents of Montgomery County since 1943. On June 30, 2009, Suburban Hospital became a member of Johns Hopkins Medicine. Suburban Hospital serves as the designated regional trauma center for Montgomery County. It is fully equipped with an elevated helipad and treats 1,300 trauma patients each year. Suburban Hospital is certified as a Primary Stroke Center by The Joint Commission and the Maryland Institute for Emergency Medicine Systems Services. Annual admissions are 14,000.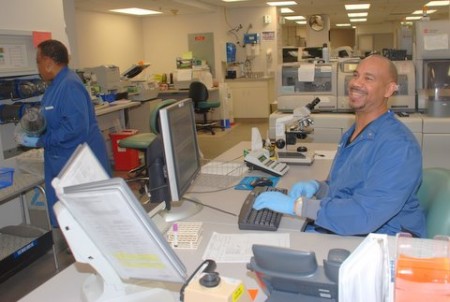 Mackie, one of our day shift techs, runs CBCs in Hematology.

Under the direction of Dr. William Smith, the 106 staff members in our laboratory provide the following services: Chemistry, Hematology, Microbiology, Transfusion Medicine, Histology and Cytology. In the past year, the main laboratory was renovated to expand the Core Lab area which consists of Chemistry, Hematology, Coagulation, and Urinalysis. Basic chemistry profiles, drugs of abuse, therapeutic drugs, endocrine, cancer markers, cardiac markers, and general urine chemistries are performed on a Beckman automation line which consists of five batch analyzers – three Beckman Unicel DxCs and two Beckman Unicel DxIs. Basic coagulation studies are performed on Beckman Tops Analyzers and CBCs on two Beckman LH 785 analyzers with automated slide preparation and staining. For urinalysis we use two Iris automated analyzers. As a result of the renovations, the Microbiology Lab is located off site in the Champlain Building off of Democracy Boulevard. They utilize Microscan (Siemens) for ID and AST testing and BD 9240s for blood culture monitoring.

Managing the pneumatic tube station is Beverly, one of our phlebotomists.
The Client Service Division of the Clinical Laboratory was established in 1992 to provide service for two nursing facilities in Montgomery County. Today, Client Services is also located in the Champlain Building and consists of a staff of seven medical technologists and fifteen Phlebotomists who provide services to over 40 nursing facilities, assisted living facilities, and clinics throughout all of Montgomery County.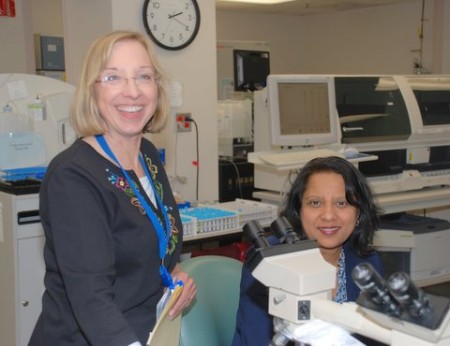 Microbiology Supervisor, Mariann, and LIS analyst, Bibi, work on the McKesson build.
The LIS system for the Laboratory and Hospital is currently Meditech. We are in the build phase and expect to go live with McKesson in January 2011.
Many of my Suburban staff have expressed interest in touring the laboratories in East Baltimore, Bayview and Howard County. I hope to arrange visits and introduce the Suburban staff to their counterparts at our other campuses. There are many opportunities for learning and collaboration. I look forward to working with all of you to welcome the Suburban staff to our Department.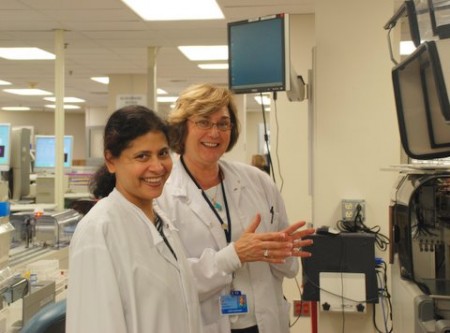 The Core Lab Supervisor, Marie, instructs on the Chemistry analyzers.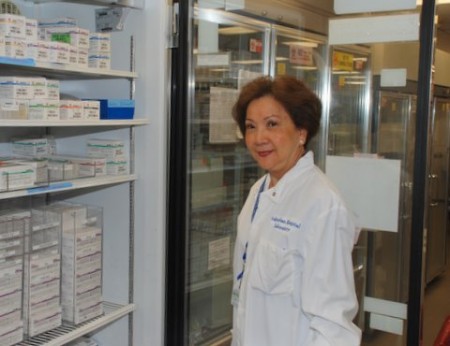 Our day shift tech, Denise, getting Chemistry supplies.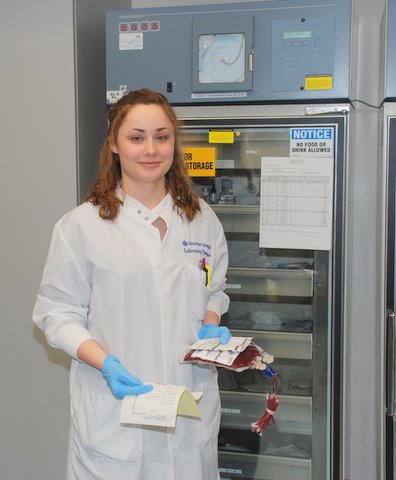 Christina, one of the Transfusion Medicine techs, pulls a unit of blood for processing.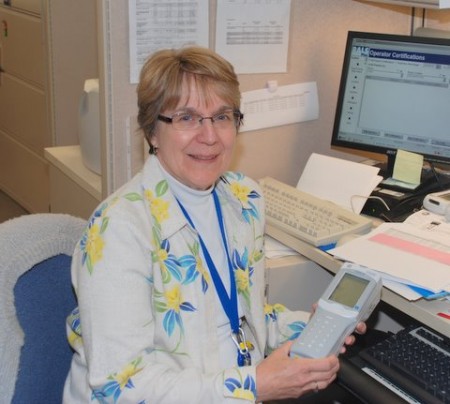 Judy works with one of the POCT instruments.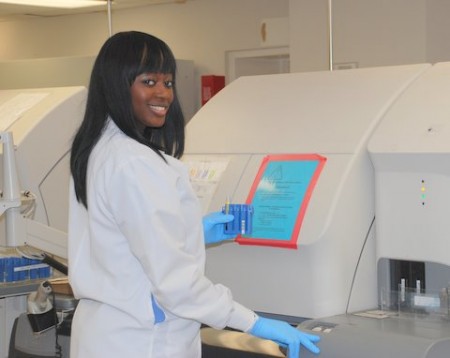 Caroline working on the "line" at a chemistry analyzer.
Deborah Z. Aird, MT(ASCP)
Administrative Director
Laboratory Services
Suburban Hospital