The clinical toxicology mass spectrometry research laboratory of Dr. William Clarke and the Hospital's adult and pediatric bone marrow transplant (BMT) teams have joined together to offer in-house busulfan testing to Hospital patients undergoing transplantation.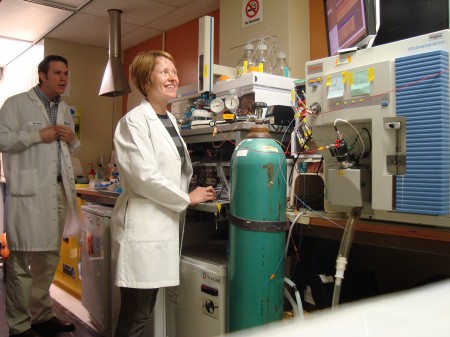 Bone marrow transplants are used to treat certain types of cancers like lymphoma, leukemia, and multiple myeloma. Busulfan works to ablate, or destroy, a patient's own bone marrow cells in preparation for the introduction of new bone marrow stem cells. If too little busulfan is administered, some cancerous bone marrow cells may remain, resulting in an unsuccessful transplant. If too much busulfan is administered, serious toxicity such as veno-occlusive disease (VOD), in which veins of the liver become blocked, may result. Each patient may metabolize busulfan differently. A patient with faster clearance of the drug will have a lower blood concentration than a patient with slower clearance who has been given the same dose. This difference in busulfan metabolism has been shown to be a result of glutathione S-transferase (GST) activity in the liver (1), the gene polymorphisms of which have recently been associated with VOD risk (2). Because of this clinically important variation in busulfan clearance and because the therapeutic/toxic index of busulfan is integral to transplant success, busulfan monitoring allows clinicians an opportunity to provide individualized medicine to our BMT patients, improving overall care.
Busulfan is administered to transplant patients in successive doses and these doses may be adjusted with proper pharmacokinetic testing, or quantitation of busulfan in blood. Previously, busulfan testing was sent to an outside commercial laboratory, but with on-campus testing, BMT pharmacists have access to test results more rapidly than with off-site testing and are now able to adjust busulfan administration earlier in the dosing schedule. This improvement in service should translate to an improvement in overall transplant success and long-term patient outcome.


(click above image for larger)
Autumn Breaud
Clinical Laboratory Specialist
The Johns Hopkins University
Department of Pathology
Poonkuzhali B, Chandy M, Srivastava A, Dennison D, Krishnamoorthy R. Glutathione S-transferase activity influences busulfan pharmacokinetics in patients with beta thalassemia major undergoing bone marrow transplantation. Drug Metab Dispos 2001;29:264–7.
Srivastava A, Poonkuzhali B, Shaji RV, George B, Mathews V, Chandy M, et al. Glutathione S-transferase M1 polymorphism: a risk factor for hepatic venoocclusive disease in bone marrow transplantation. Blood 2004;104:1574–7.