This summer the Johns Hopkins Medicine Department of Pathology participated in the Johns Hopkins Summer Jobs Program (JHSJP) and the MERIT Health Leadership Academy.
This is the 29th year for the Johns Hopkins Summer Jobs Program which started in 1994 supported by our Health Systems leadership, Ronald Daniels and Kevin Sowers. The program provides a five-week, 25-hour weekly paid internship for Baltimore City students through a partnership with YouthWorks. The goal of the program is to provide exposure to health care careers and workplace culture for students aged 15-21. This year there were over 160 JHSJP interns placed throughout 68 departments in Baltimore. The website gets updated each winter for students to apply for the summer. Additional questions can be directed to JHSJP@jhmi.edu.
The MERIT Health Leadership Academy educates and empowers students who are from underrepresented in medicine backgrounds to become health professionals to promote change and advance health care equity. Part of this program is the summer internship opportunity. "During summer internships, MERIT focuses on providing their scholars with experiences that help them gain a deeper understanding of community health. Johns Hopkins has been a strategic partner since MERIT's inception, providing clinical shadowing opportunities at the main campus, Bayview campus, as well as outpatient clinics."
The department was able to host twelve JHSJP interns in our laboratories at Greenspring Station, JHH Core Lab, JHH Flow Cytometry, JHH Transfusion Medicine, JHH Anatomic Pathology in Archive, Reference, Gross Room, PSO, and the Consult office. We had 24 MERIT scholars join Pathology for laboratory tours, working with our faculty, and participating in our weekly Pathology Education Day. Dr. Avery hosted six MERIT scholars who were able to experience the JHH Microbiology laboratory through very enjoyable and informative tours given by Ava' Roberts.
Each Thursday of the five-week internships (July 10 – August 11, 2023), Pathology hosted an education day for the JHSJP interns and MERIT scholars to showcase the variety of careers that pathology has to offer and examples of what we do. The final education day consisted of the JHSJP interns presenting a short topic related to their pathology internship area.
July 13: Blood Bank (Alyssa Cunningham & Carina Friend)
July 20: Phlebotomy & Hematology (Kayla Kiah, Jung Choe, & Dr. Katie Fomchenko)
July 27: Surgical Pathology (Dr. Marissa White, Alex Meyer, & Dr. Charles Steenbergen)
August 3: Surgical Pathology (Ghazal Khan, Dr. Laura Wake, & Henrietta Eugene)
August 10: JHSJP Intern Presentations & Finale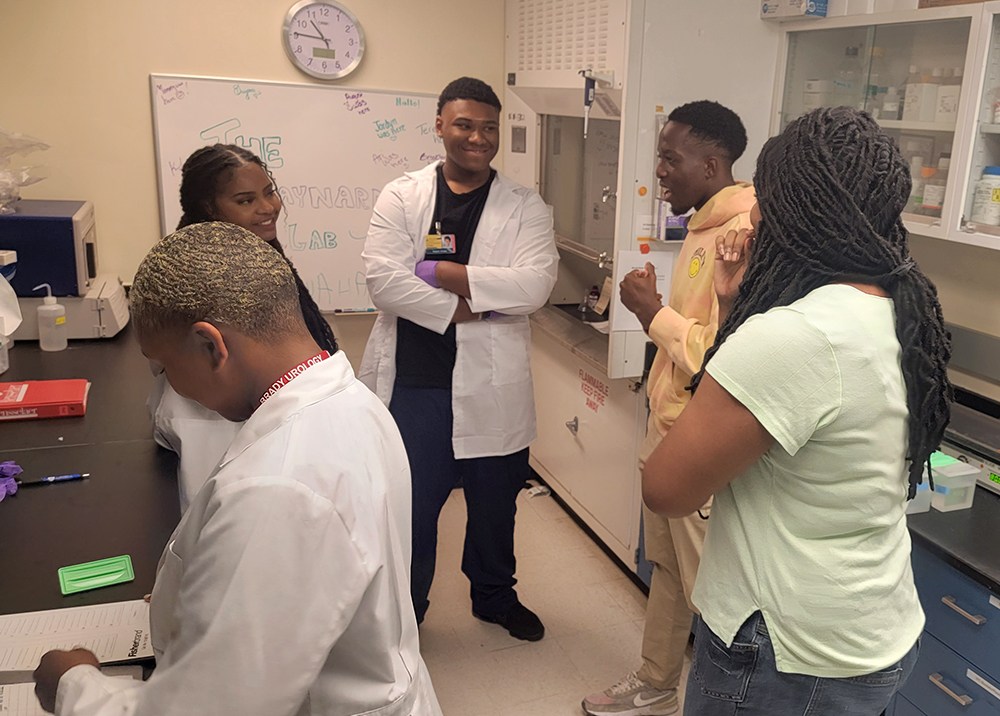 Thank you to the JHSJP pathology "supervisors" and the MERIT scholar preceptors:
Robin Avery, MD
Lorraine Blagg, MA, MLS(ASCP)CMSBB
Sinithia Drake, BS, PBT(ASCP)
Janielle Maynard, PhD
Yulanda Mitchell, BS, HTL(ASCP)
Melody Rorabeck, MHA, MLS(ASCP)CM
Marissa White, MD
Check out the finale of the Johns Hopkins Summer Jobs Program on JHM Link.
Lorraine N. Blagg, MA, MLS(ASCP)CMSBB
Pathology Education and Development Lead