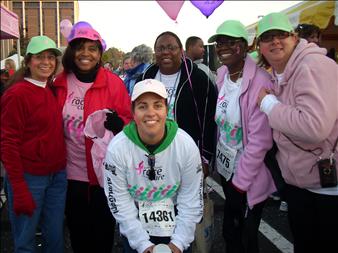 Susan G. Komen Race for the Cure supporters
The Anatomic Pathology Employee Engagement Focus Group is committed to helping our employees stay informed and be healthy. To help us reach that goal, the Employee Engagement Focus Group sponsored their first Cancer Awareness Seminar on Friday, July 22, 2011, from 11:00 a.m.-3:30 p.m. in the Weinberg Auditorium. The seminar was open to all Pathology employees, patients and families. Our purpose was to educate attendees about the prevention, diagnosis, and treatment of cancer, and to provide education about the emotional support needed for patients and families during such a difficult time. The Focus Group received volunteer support from numerous human service organizations including Dream Works Cancer Foundation, the Johns Hopkins Avon Foundation Breast Center, Johns Hopkins Wellnet, McElderry House Lodging, the American Cancer Society, the Susan G. Komen for the Cure Foundation, the Leukemia & Lymphoma Society, the Johns Hopkins Patient and Family Services Program, the Ronald McDonald House – New York, the Baltimore City Health Department, the Believe in Tomorrow Children's House at Johns Hopkins, and Pathology's newly established Bridge of Hope that supports employees and families (Theresa Cantone and Karen Wittler). These organizations shared a wide range of information at their individual booths.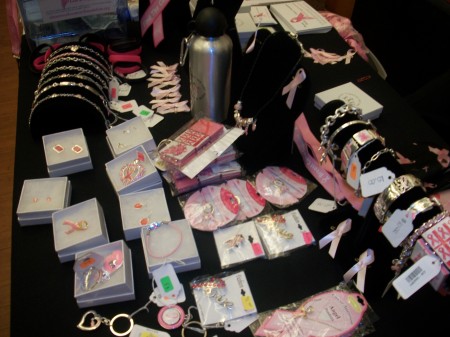 Pink ribbon items for sale
In addition to the above participants, there were several guest speakers from the Department of Pathology. They included Dr. Pedram Argani, Linda Parsons, Dr. George Netto, Dr. Trinity Bivalacqua, Dr. Peter Illei, Al Valentine, Dr. Elizabeth Montgomery, Janice Alvarez, and Marcelo Dessin. Representatives from the Dream Works Cancer Foundation (Charles Dean), American Cancer Society (Janelle Thomas), Ronald McDonald House – New York (Chiara King), JH Breast Center (Debra Stewart), Susan G. Komen (Brittanie Stuber) were among our speakers. Toni Eller of Surgical Pathology asked local high school cheerleaders to participate, and the girls received community service hours by distributing flyers, escorting patients, and being liaisons for the vendors. These exceptional young ladies were Chasmin Johnson, Laureen Teeple, Amanda Lee, Sydney Eller, Jackie Gonzales, Alesia Watkins, and Talia Cates. Employee Engagement members are Anita Hopkins, Chairperson, Nichelle Grey, Katina Williams, Linda Harper, Tavon Whitty, Karen Wittler, and Toni Eller. Our Johns Hopkins student volunteers were Brandon Boone, Ayanna Branch, and Sweet James.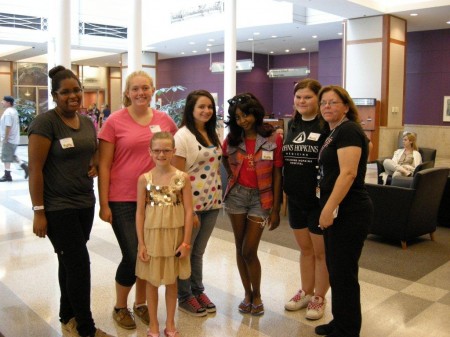 Our volunteers from the Gray Charles Comanches Rec Center and the Institute of Notre Dame and Eastern Tech high schools
By encouraging everyone in Pathology to get involved in the war against cancer, we can hopefully decrease the number of people affected by this terrible disease, and improve the quality of life for cancer patients. Our interest continues to grow as we unfortunately learn of more people – including loved ones – stricken by this dreaded disease. Let's choose hope and become advocates for cancer education.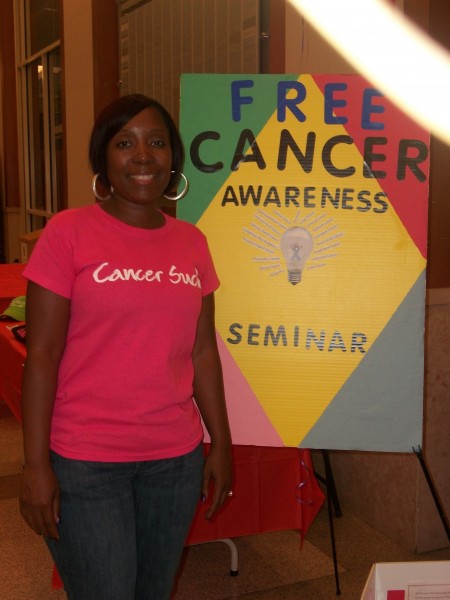 Anita Hopkins, Employee Engagement Focus Group chairperson and organizer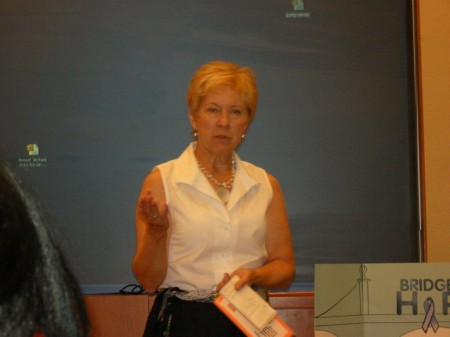 Deborah Stewart, R.N. of the Johns Hopkins Avon Foundation Breast Center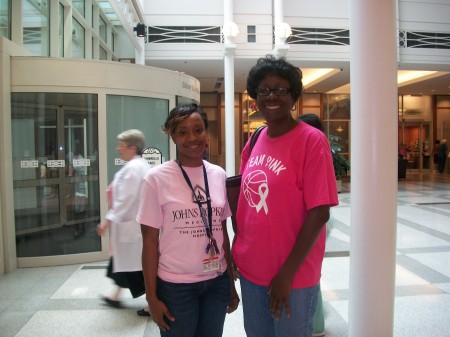 Nichelle Grey,  EEFG member, and Taliea Ramsey, aunt of Anita Hopkins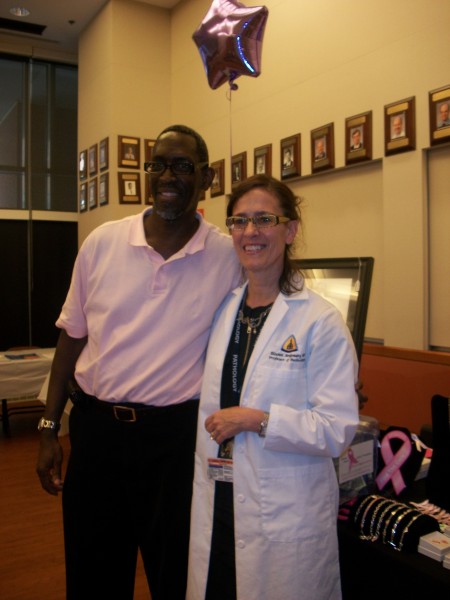 Charles Dean of Dream Works Foundation and Dr. Elizabeth Montgomery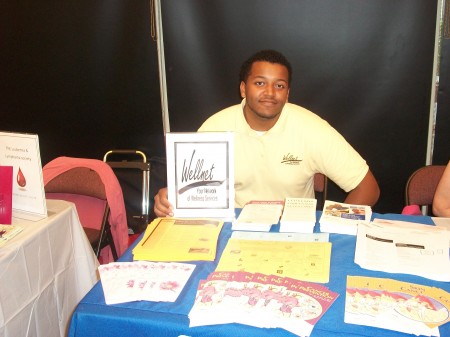 The JHH WellNet Program had a table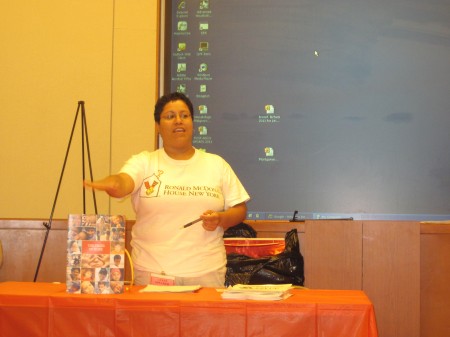 Althea Alvarez of the Ronald McDonald House – New York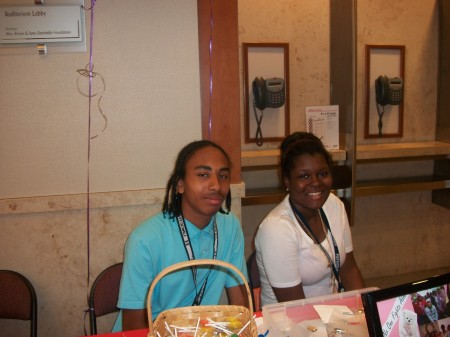 JHH volunteer summer students, Brandon Boone and Sweet Joy James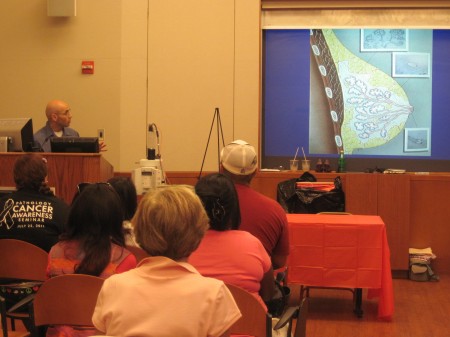 Dr. Pedram Argani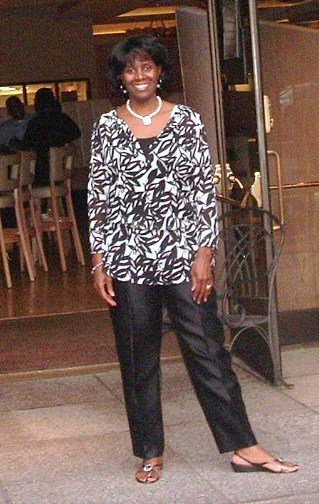 In Loving Memory of LaTanya Ramsey Lansey, Anita Hopkins' aunt
I would like to thank everyone who participated in our Cancer Awareness Seminar for their vital contributions, and thank each and every person who attended. Our Focus Group hopes to hold another Cancer Awareness Seminar in 2012.
Anita J. Hopkins
Chairperson
Anatomic Pathology Employee Engagement Focus Group