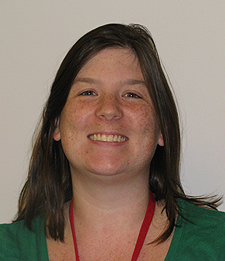 The AABB, in cooperation with the Commission on Accreditation of Allied Health Education Programs (CAAHEP), has been accrediting Specialist in Blood Bank Technology (SBB) Programs since 1962.  The Johns Hopkins SBB Program has been in existence since 1971, and it has provided many certified SBBs to hospitals, blood donor centers, and industry throughout the United States.
The Johns Hopkins SBB Program is a 52-week work-study program where the employed MT or BB certified technologist works in the Transfusion Medicine Lab gaining experience. The Program consists of immunohematology reference lab training, didactic lectures, student presentations, a research project, and student rotations to other Hopkins Labs like Immunogenetics (HLA) lab, Graft Engineering Lab (GEL), Immunology, Flow Cytometry, and more.  Students also visit the FDA in Rockville, the National Testing Lab at the Penn-Jersey Red Cross in Philadelphia, and attend the AABB and MAABB annual meetings and the NIH symposium.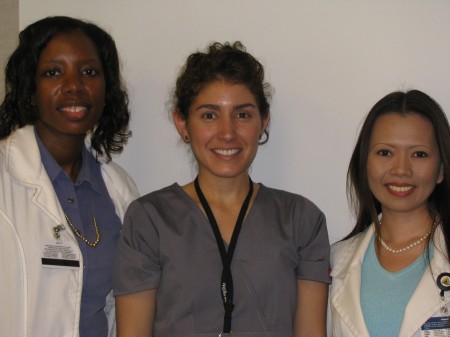 2009-2010 SBB students from left to right:  Malea Pope, Justina Pangallo, and Marjorie Te
Upon successful completion of our SBB Program, students apply to take the Board of Registry SBB Certification Examination to become certified as a Specialist in Blood Banking Technology (SBB).  This examination is offered by the American Society for Clinical Pathology (ASCP) Board of Registry in collaboration with the AABB.
Specialists in Blood Banking may work in many types of facilities, including community blood centers, private hospital blood banks, university-affiliated blood banks, transfusion services, independent laboratories, and university staff and program directors.  Specialists in Blood Banking are knowledgeable in all aspects of blood banking, tissue banking, transfusion medicine, hematopoietic, cellular and gene therapies, and tissue transplantation. These individuals are subject matter experts on a variety of areas including regulatory and quality systems, genetics, immunology, blood groups, collection and storage of blood components, donor processing, immune mechanisms, component therapy, transfusion of the newborn and oncology patients, transfusion reactions and transfusion transmitted disease, laboratory management, computer system development and education.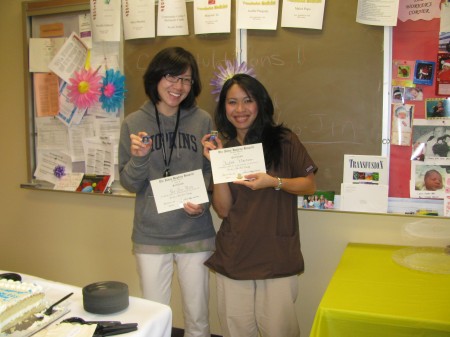 SBB graduates from left to right, Yeo-Jin Kim and Judith Veterana, completed the program on August  31, 2009
Specialists in Blood Banking are desired to fill positions as regulatory experts, technical advisors, laboratory supervisors and managers, quality assessors, researchers and educators within their field of Transfusion Medicine.
The requirements for acceptance into the Johns Hopkins SBB Program are ASCP certification as a Medical Technologist or Technologist in Blood Banking and a minimum of two years full-time Blood Bank experience. The application deadline is April 30 for consideration in the class beginning in September of that year. There is no tuition for the program; students are full-time employees (with benefits) of Johns Hopkins Hospital who work 40 hours per week in the Transfusion Medicine Lab.
Additional Information:
www.aabb.org
www.caahep.org
www.ascp.org
www.asq.org
Lorraine N. Blagg, MT(ASCP)SBB
Education & Development Coordinator
Transfusion Medicine Division
Department of Pathology
Johns Hopkins Hospital