A year-long process to transition to CAP Laboratory Accreditation culminated with a two-day inspection of all Johns Hopkins Medical Laboratories on Monday, September 14, and Tuesday, September 15, 2009.
Many of you may recall my earlier blog post about preparation for the inspection.
The peer inspection was performed by a team of pathologists and other laboratory professionals from Hershey Medical Center.  They were joined by molecular/genetics specialists from Children's Hospital of Philadelphia and staff from CAP's central office.  Twenty-three inspectors in all!
The inspection was guided by the CAP checklist questions organized by specific laboratory disciplines, as well as general  questions related to proficiency testing, quality management, human resources, space, etc.  All clinical laboratories were inspected and we did very well overall!   Considering the complexity of our test menus, our newness to this process, and the thousands of checklist questions, the number of deficiencies was relatively small.
We are in the process of evaluating all deficiencies which require further documentation and follow-up within 30 days of the inspection. Some deficiencies were corrected on site and need no further documentation.   Responses to our deficiencies will be reviewed by CAP technical specialists at their central office, a CAP regional commissioner, and an accreditation committee before an accreditation decision is issued.   All can be addressed, and we have full confidence that accreditation will be achieved within the required timeline.
At the end of the inspection, the CAP Team Leader and his team of inspectors summarized their findings to a large group of lab representatives.  Not only was this time allotted to review the results of the inspection process, they also shared recommendations for improvement and comments about our laboratory services.   It was encouraging to hear positive inspector comments that included:
"For a first- time CAP inspection – you did a wonderful job!"
"Laboratory directors showed personal responsibility and affection for their labs."
"QC processes and procedures were excellent."
"The lab was well run and well organized."
"It was a positive experience and we shared ideas."
Everyone in every laboratory should be congratulated on a positive outcome!
The process doesn't stop here.  The next CAP inspection may be two years away, but we have to stay on top of our processes and systems to ensure compliance with laboratory standards.  The CAP checklists are updated regularly.  In fact, there are newly released CAP checklist questions that need to be reviewed.   Many groups like the one pictured below (QA Workgroup) will continue to meet and make recommendations for ongoing laboratory improvements that will ensure quality and compliance.
See how happy they are the inspection is over!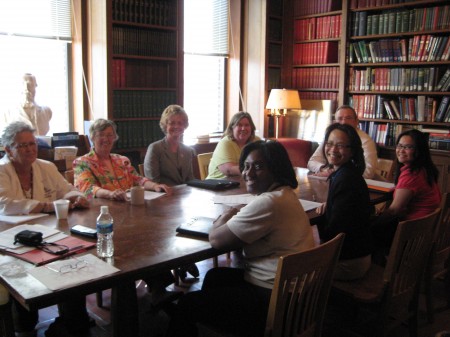 Barbara Parsons, MA, MT(ASCP)
Department of Pathology – CQI Office
Assistant Director, Quality Management