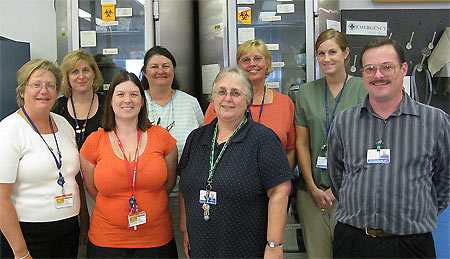 "It's in —  we're live!"     Those words were music to many ears in October of 2008.  After more than two years of hard work, the ISBT 128 project  was installed into the Transfusion Medicine computer system and is working as expected.
Approximately 15 years ago, the International Society for Blood Transfusion (ISBT) set a mandate to develop a universal label format using the barcode symbology Code 128 and to have all blood products worldwide labeled using this new system.    The mission became known as ISBT 128.    Regulatory bodies (AABB) have integrated the new labeling format into their requirements for collection and transfusion services.    Any institution not using the ISBT 128 format for their blood products would not be in compliance with standards.
Why the switch?   Codabar had been the barcode format in use throughout the world for labeling blood products,   but the format has its limitations:
Unit numbers that are not unique – impacting traceability
Susceptibility to misreads
Limited structure for new product codes and technology
The ISBT 128 format has multiple advantages as a blood, tissue, and organ product labeling system:
Provides a unique donation identification (unit number)
Supports international exchange of blood and stem cells
Has data structures designed for process control and future growth
Allows the use of new technology such as two-dimensional barcodes and RFID chips
These advantages mean higher levels of accuracy and safety for patients receiving products.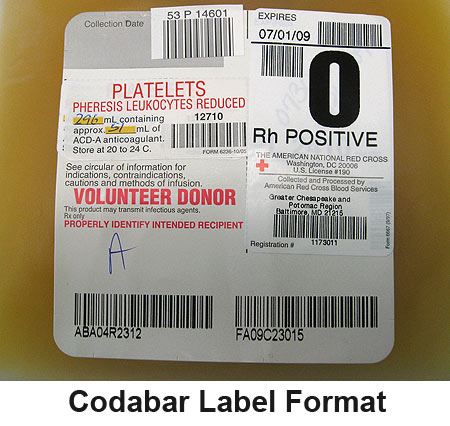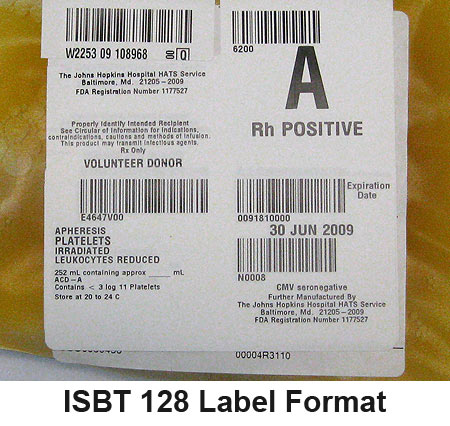 After some initial trepidation by the Transfusion Medicine staff, ISBT 128-labeled products are preferred because their labels include more product information, print automatically after component preparation, and allow one-person label verification.   No more cut-and- paste labels with incomplete product codes.   No more work-around processes for products with duplicate unit numbers.  No more waiting for a second technologist to verify a label.    These changes lead to faster, more accurate delivery of blood products to our patients.
The American Red Cross donor system — from whom we receive about 90% of our blood products — has not yet transitioned to ISBT 128 — they expect to start roll-out of their donor centers  to ISBT 128 in 2010.
Now that will be a truly happy day in Transfusion Medicine.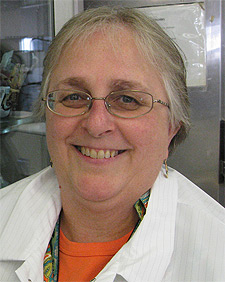 Sandra K. Thoman, MBA, MT(ASCP)SBB
Supervisor, Transfusion Medicine Division