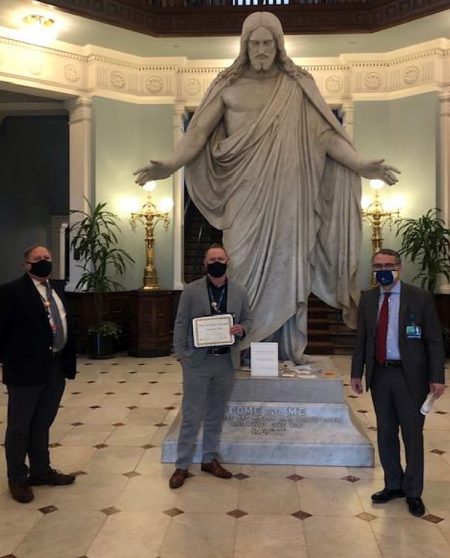 The JHH LEADer Award is designed to recognize managers who live our Core Values and has made a meaningful impact on their staff. We are very pleased to announce, Brandon Ellis, who works as Manager of the Microbiology Lab, has been presented with this auspicious award. Brandon has always been a model of The Johns Hopkins Mission, Vision, and Values; but this past year has done so under extraordinary circumstances.
Brandon has been a member of our Pathology Microbiology Department since graduating in 2007 as a Medical Technologist. In 2014 he became a supervisor and in 2018 he took on the role of Pathology Lab Manager of this 90+ member laboratory. Little did he know we would encounter pandemics soon after, and that 2020 would bring him to be part of our integral leadership through COVID19. He quickly partnered with our faculty and staff in the development of new tests; providing exceptional leadership across multiple entities to coordinate and launch testing across JHHS. When the days and nights blurred together, he continued to encourage his colleagues and staff. He and his team coordinated with other (non-JH) hospitals, community groups, and organizations to pick up the needs here at JH for those elsewhere in the state; all while carefully managing a tightrope on supplies, reagents, and test kits. Brandon was even driving kits to our affiliate hospitals on numerous occasions to insure we could meet weekend testing demands. When repeatedly asked, "can you do more?" – he has met the challenge and led his team through. Johns Hopkins Hospital, Department of Pathology can turn around results in 24 hours, while performing multiple types of tests and volumes greater than any other Maryland hospital. To that point, we continue to be approached by the State and others for help. Never overlooking every person involved and the hard work in the chain of testing; Brandon even prepared hot cocoa deliveries to the testing tent teams this winter!
Brandon has grown expedientially during this process. He became the point person for all CV19 testing across JHM. He helped launch local STAT testing at each JHM hospital. He was the liaison for Supply Chain to help them validate Swabs and Media during the early days of shortages. He became the technical expert for JHM. If he didn't know the answer on the spot, he would work with faculty to ensure that every institution had the best information and provided the best quality for all of our patients. In fact, Affiliate Managers would not act or change a protocol until Brandon advised them. As Point of Care Testing became available, he facilitated the development process with specimens and materials to be used for validation.
Brandon truly shines is his real time attention to patient care.  He fielded calls from clinicians at all hours of the day and night to troubleshoot problems:  missing specimens, delayed results, urgent needs, etc.  Dr. Jerry Stonemetz (Anesthesia) said that Brandon is a Rock Star.  You can call him any time of day, and he can fix almost anything.  Working with Dr. Stonemetz, Brandon made every effort to get a result so that a Surgery would not need to be cancelled (usually because lack of patient compliance in testing).  This was almost a daily task of hunting for a CV19 swab in a 2000 swab haystack.  The patient is always in the forefront of Brandon's mind as he looks at how the Microbiology Laboratory provides clinical service.
The faculty and staff within the Department of Pathology are proud of Brandon's many accomplishments and applaud him on this special occasion.   Congratulations, Brandon!
Allen Valentine and Doris Pendergrass