People in Pathology are very generous in donating their time, talent and money to others. Whether it is instructing and working with the students from our neighboring high school, or donating food and clothing for the needy, or making the lives of our pediatric and adolescent patients a bit brighter, or participating in fundraisers to help cure diseases, it is very evident that the staff and faculty of Pathology strive to make a positive difference in the lives of so many people. When we give, we truly do receive. It makes us happier and more appreciative of our own station in life, and scientific studies support this. This posting lists many of the ways people in the Department of Pathology made contributions to our community in 2011:
Educational Contributions
Pathology is very robust in its continued support of our neighborhood high school, the Paul Laurence Dunbar High School for Health Professions, https://blogs.pathology.jhu.edu/pathology/dunbar, We donated $24,000 in FYs 11 and 12 to support Dunbar's summer school and Saturday programs, its science fair, robotics fund, and physics program. Additionally, eight Pathology laboratory employees donated time to Dunbar's four-week summer program for 15 students. The Department also contributed laboratory supplies to Dunbar, including serological pipettes from Immunology, and Petri dishes and glassware from Cytopathology. Many employees across various divisions in Pathology are involved in our extensive educational outreach to Dunbar which is under the auspices of Pathology's education coordinators.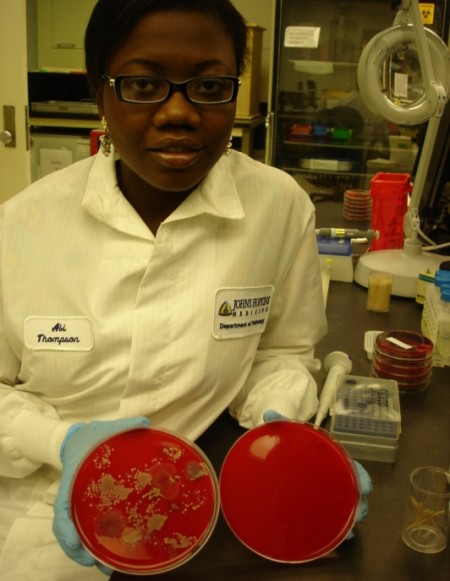 Dunbar's young scientist, Abi Thompson with "before" (left) and "after" (right) handwash plates, in the Microbiology Lab in the fall of 2011.
Chris Hostetter of the Core Lab, and Lorraine Blagg and Heather Smith of Transfusion Medicine spent time with fourth-graders of Tench Tilghman and City Spring Elementary Schools as part of the schools' Career Days, talking to and engaging the children in discussion about careers in pathology and laboratory medicine.
Chris also served on the advisory board of the Stevenson University Medical Technology Program, and Paula Mister of Microbiology on the advisory boards of the Medical Technology Programs at University of Maryland, Baltimore, and CCBC-Essex. The Department also donated Immunology lab supplies to the University of Delaware and an incubator to CCBC.
Johns Hopkins Hospital Youth Programs
The Department has many affiliations with teens and college students in our Metropolitan area. We aim to educate, inspire, train and mentor young people in careers in pathology. We hosted one BACH intern (http://www.baltimorealliance.org/index.html) who spent three weeks in May and June in the Core Lab. Chris Hostetter presented a talk about medical laboratory careers to a group of young people at the Job Corps office in Baltimore in June. In conjunction with the Summer Jobs Program of the Office of Project REACH, several students worked for six weeks during the summer in our Department. Additionally, through the JH Volunteer Office's Summer Junior Volunteer Program, two young volunteers were placed in the Core Lab.
Child Life
Our Hospital has a wonderful Child Life Department that we support. When Child Life was looking for various donations for Halloween for our pediatric inpatients and outpatients, Pathology generously responded. (We even had a blog posting and had more items at our Trick or Treat station than any other department! https://blogs.pathology.jhu.edu/pathology/halloween-at-childrens-center.) And during the holidays, Karen Wittler and Theresa Cantone in Weinberg helped collect two very large boxes of stocking stuffers, books, toys, and personal items for Child Life teens.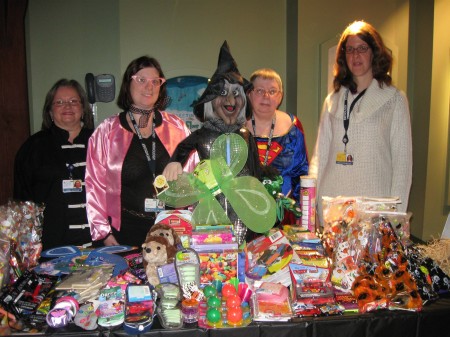 Pathology employees (left to right), Karen Wittler, Lorraine Blagg, Jean Lavelle, and Dr. Anna Fuezery, at our Child Life Halloween table.
Holiday Season
Additionally, Karen and Theresa worked on a "Be a Buddy" drive to help a young mother and two small children in great need and collected $250.00 from Histology Lab employees. Denise Jones of Microbiology headed a project at Christmas with the UMOJA Head Start Academy . Clothes, toys, food, including a complete turkey dinner, and gift cards were collected for a needy family. Under the auspices of the annual JH Community of Caring Holiday Gift Giving Drive, our CQI staff sponsored six children from two families with toys, clothing and gifts. The families are neighbors of JHMI.
One charity near and dear to many Pathology employees during the holidays is the Happy Helpers for the Homeless .  A holiday season drive to help the needy was started 10 years ago by Lydia Nelson, and for the past several years we have supported the Happy Helpers for the Homeless, an all-volunteer group that helps homeless and impoverished men, women and children. In 2011 we collected clothing, blankets, food, new toys, toiletries, gift items, and nearly $800.00 worth of McDonald gift cards and cash donations. An additional $350.00 was given by the HATS leadership group and Transfusion Medicine faculty who chose to support the Happy Helpers rather than go out for their annual holiday dinner.
Other Community Service
Under the direction of Linda Mauzy and Karen Wittler of Anatomic Pathology, our Department collected 18 boxes of toiletries, Slim Jims, other small personal items, and handwritten cards and letters to our servicemen and women stationed in Afghanistan, to thank them and wish them a happy holiday. Items were shipped in time for Christmas. This idea came from Linda Mauzy's son, Dylan, who is a Boy Scout.
Pat Wachter and Linda Parsons collected dozens and dozens of new and gently used purses for "Purses for PLASE," http://www.projectplase.org/. These handbags were sold at the Fells Point Festival in early October to raise money for programs to provide housing and support services to the homeless in Baltimore.
Additionally, there were collections for various research funds for breast cancer, ovarian cancer, heart disease, and Crohn's disease, and in 2011, $65,000 was collected for the United Way campaign by the Department from the Hospital and the School of Medicine.
Renata Karlos
Staff Assistant
Department of Pathology
Johns Hopkins Hospital