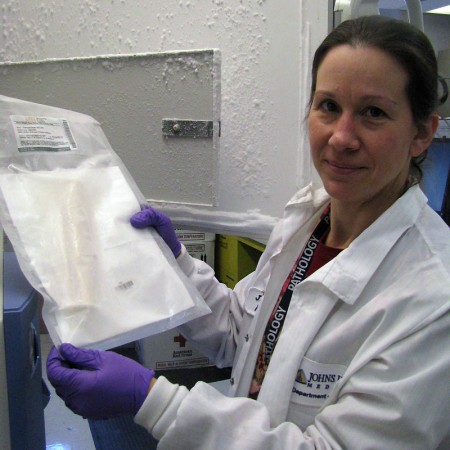 Jenn-Nelson,-Tissue-and-Bone-Coordinator
Most people probably don't know that there is a tissue and bone bank at Johns Hopkins Hospital (JHH). Because there are so many different types of tissues and bones used here that require special handling and special storage conditions, the needs for this unique situation were met. JHH has over 750 pieces of tissue and bone, with some pieces costing over $10,000 such as regenerated tissue matrix used for hernia repair, breast construction, among other types of surgery. One of my responsibilities as the Tissue and Bone Coordinator is to maintain this inventory at the level needed for the surgeries performed at JHH, while keeping costs to a minimum.
The Bone Bank at JHH is enclosed in Transfusion Medicine because of the familiarity with appropriate handling of regulated products. These regulations enacted by The Joint Commission, the American Association of Blood Banks, and the American Association of Tissue Banks, specify that every tissue and bone must be traced from donation to implantation into a recipient or disposal, and maintained under the proper storage conditions. These allografts can be traced using unique identifiers that are documented during every step of the process. If there is a need to recall a tissue or bone, the unique identifier allows for tracking of the affected pieces.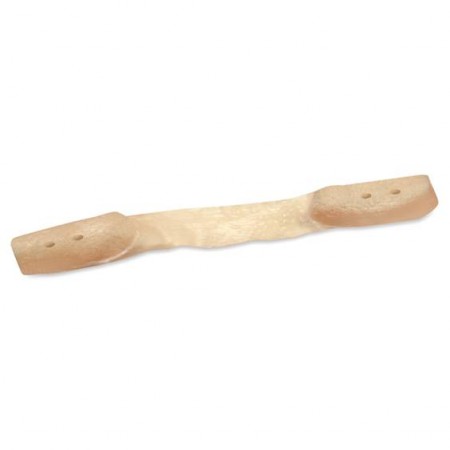 A patellar tendon used in orthopedic repairs
There are many types of tissues and bones stored in the Bone Bank. Human tissues (such as skin, heart valves, veins, and tendons), human bones (such as a femurs, humerus allografts, spacers for the back and neck, etc.), as well as many types of fillers, are purchased and stored in the Bone Bank. These allografts can be used for many types of surgeries, such as hernia repairs, breast reconstruction, cardiac repairs, burn patient debridement, and many orthopedic and sports injury repairs. Most of our tissue and bone material are taken from cadavers , and we purchase the items from licensed, FDA-regulated suppliers. Additionally, there is bone taken from the patient's own body, such as cranial bone flaps and rib cartilage that are frozen for future implantation.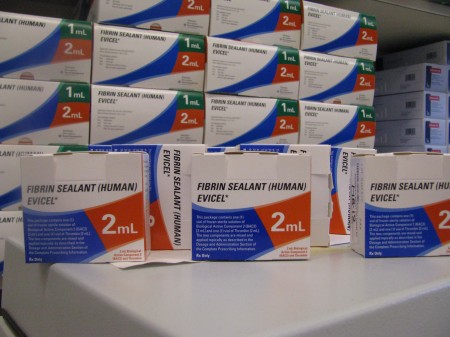 Fibrin sealant and applicators used for homeostasis and many other uses
The Bone Bank is currently divided between the Weinberg Blood Bank and the Carnegie Blood Bank. Adapting to an ever-changing world of healthcare, the Weinberg Bone Bank will move to the new Sheikh Zayed Tower on February 1st and the Carnegie Bone Bank will move in April. There are many challenges in moving to a new environment, but combining the two Bone Banks will improve customer service by having everything conveniently located in one area for all the tissue and bone needs of JHH.
Jennifer Nelson, MLT(ASCP), CTBS (Certified Tissue Bank Specialist)
Tissue and Bone Coordinator
Department of Pathology
The Johns Hopkins Hospital